Happy Monday!
Today is Challenge Me Monday at FCCB. Although this is not my posting week, I do have some news to share. Robin and Amy Jo are in the process of selecting new design team members. The new members will be introduced next Monday. I can tell you today, however, that I have been asked to stay on the team. Yay!!!! I love the
Fantabulous Cricut
blog, its challenges and daily inspirations, so I'm thrilled. Please stop by for this week's challenge: For the Birds.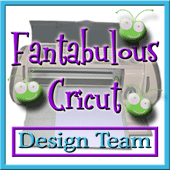 More news! Wendy, of
Digital Delights by Louby Loo
, is releasing The 12 Days of Christmas beginning Tuesday, November 1. I will be sharing three of twelve images right here on my blog - Days 2, 7, and 11. The images are fun and whimsical, typical Digital Delights style - I'm sure you'll love them and hope you'll stop by for the preview. Then you'll be able to visit the Digital Delights online store to get your own set. Just think of all the cute things you can design - banners, accordian books, cards, layouts, mini albums - the list goes on.
Have a Happy Halloween. Enjoy the little ghost and goblins that stop at your door.
Hugs and Happy Crafting,
Larelyn